Lab
Team 254's founding sponsor, the NASA Robotics Alliance Project has generously provided Team 254 and Team 1868 with a large workspace at NASA Ames Research Center.  Team 254 has an 80% size practice field as well as a small machine shop, workspace, computer lab and meeting space.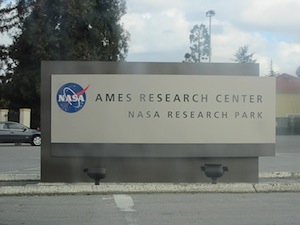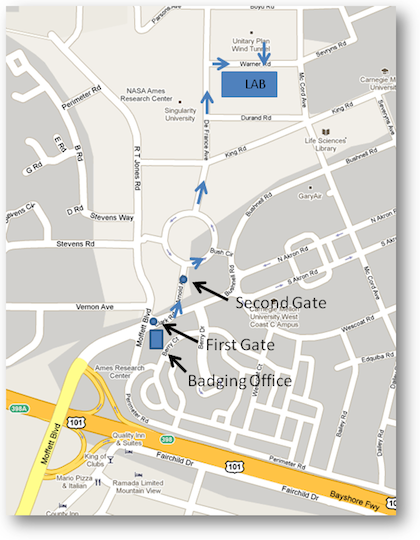 Any FIRST team is welcome to come in and use our practice field under the supervision of NASA personnel.  NASA is a secure government facility and all adults over the age of 18 must be badged to enter. For more information, contact Cory McBride.
NASA Ames Robotics Alliance Project
Building N246, Room 180
Moffett Field, California
Lab Phone Number: (650) 604-4087
If you are on the After Hours List or have only a day pass, you do not need to pick up your badge at the badging office; just go to the front gate and follow the instructions below.
If you are picking up your long term badge, enter the badging office (as described below). Tell the people behind the desk that you're picking up your badge and show them your Drivers License (or passport, etc.). They will ask you if you are a citizen. Then they will take your picture and give you your badge. Then follow the directions below.
Approach the first gate on Moffett Boulevard (North).
If picking up a Badge, go through the first gate in the RIGHT lane. Inform the guard that you are picking up badge and park in the parking lot to the right.
If you already have a Badge, go through the first gate in the LEFT lane. Show your badge and ID at the front gate.
Take the first left on Arnold Ave.
Show your Badge and ID at the gate. Turn right and proceed around Bush Circle.
After going halfway around the circle, turn right onto DeFrance Avenue. Turn right on Worner Road.
Park on the right (south) side of Warner Road near the "Robotics Alliance" trailer.
Enter the door closest to the "Robotics Alliance" trailer.
NOTE: The badging office is open during standard weekday business hours only, closing at 5pm each day. If you are coming on a weekend and do not have a badge, you will need to be put on the after hours list (this is different than a badge). Inform the guards at both gates that you are on the list and they will verify. They may issue you a temporary after hours badge or may simply let you proceed through the gate.